About esmod
HOME > ESMOD SEOUL ENGLISH > About esmod 서브메뉴열기닫기
the world's first and oldest fashion design school with exclusive and PATENTED methods.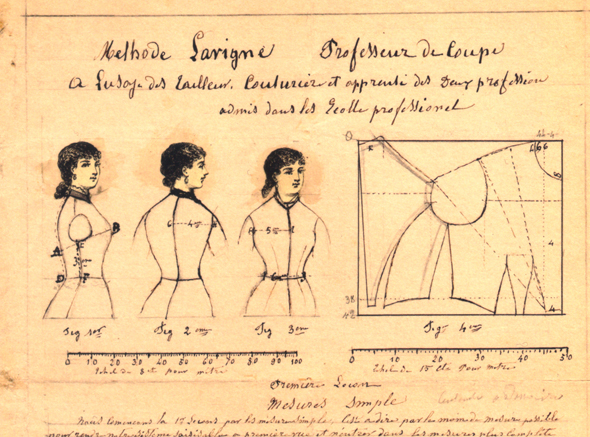 ESMOD is the abbreviation of 'Ecole Superieure des Arts et Techniques de la Mode,' which means 'School of Superior Arts and Techniques of Fashion.'
1841 : the year that Alexis LAVIGNE, who had tailored the royal costume of Napoleon III, created the first fashion school in the world. Alexis LAVIGNE invented many tools of the fashion industry that are still used today such as soft metric ribbon and the manikin. In addition, he drastically improved the costume culture of Europe by patenting the technology he invented and publishing his cutting methods books. The measuring tape and manikin printed on corporate identity or other types of material offered by ESMOD pay tribute to the memory of Alexis LAVIGNE. When he passed away, his family maintained the school's tradition by continuing to teach his methods.

1970 – 1990 : at the time of luxury ready-to-wear and the emergence of the 'creative designers', the school opens its doors to foreign students and become ESMOD International by developing a network of schools across the world.

1980 – 1990 : As marketing gained importance in brand development, ESMOD International opened ISEM(Institute Superieur de la Mode), a business administration school specialized in fashion.

1990 – present : Berlin, Beijing, Beirut, Bordeaux, Damascus, Dubai, Jakarta, Lyon, Moscow, Munich, Osaka, Oslo, Paris, Rennes, Roubaix, Sao Paulo, Seoul, Sousse, Tokyo, Tunis, and opening 2010, Istanbul. A unique method, revised, updated and adapted to each culture within a network of 14 countries. ESMOD International benefits from a unique planetary vision of the fashion profession.
Address.

106, Apgujeong-ro, Gangnam-gu, Seoul 06028 Korea

Tel.

+82 (0)2-511-7471~3 (international ext. 104)

Fax.

+82 (0)303-3440-7477

Email.seoul@esmod.co.kr
SUBWAY.

Line No.3 (Apgujeong Station Ext No.5 or Sinsa Station Ext No.8)

BUS.R 9470, 9507, 6800
B 143, 240, 351, 352, 440, 472
G 3011, 4318, 4412, 4419