INTERNATIONAL NETWORK
HOME > ESMOD SEOUL ENGLISH > INTERNATION.. 서브메뉴열기닫기
21school in france and across the globe
Through its high level teaching methods and its genius in fashion, ESMOD transmits the "French expertise" across the globe, training students to become the future designers in their country.
the exchange program
Thanks to its unique international network(21 schools around the world), ESMOD International students have the possibility to benefit from an inter-school exchange program during the 3 year course. This gives students the opportunity to discover another country as well as another culture.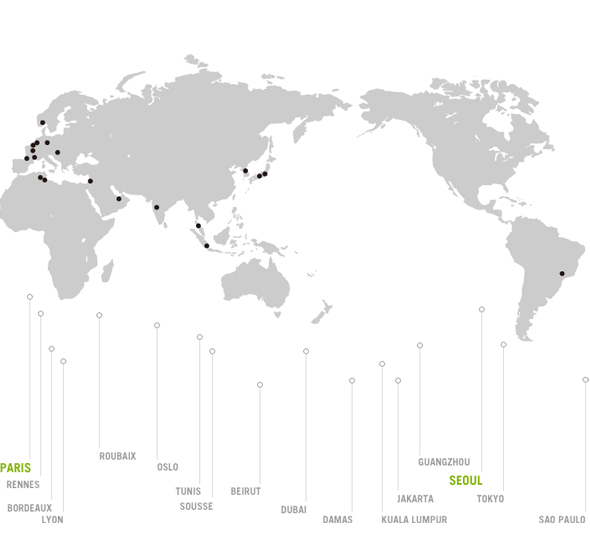 ESMOD BEIRUTwww.esmodbeyrouth.com

ESMOD BEIRUT, opened in Sept. 1999, is situated in Ain El Merece, the downtown area of Lebanon's capital Beirut. It offers women's wear, men's wear, and kids' wear courses and world renowned Haute Couture designer Elie SAAB is the art director there and active teacher.

ESMOD MUNICHwww.esmod.de

ESMOD MUNICH situated in Gartnerplatz, one of the most beautiful and energetic districts in Munich, was opened in 1989. It accommodates over 180 students from Germany, Switzerland, Austria, Hungary, and Russia and pushes a cooperative program with famous fashion companies such as Triumph International, the largest lingerie company in the world.

ESMOD BERLINwww.esmod.de

ESMOD BERLIN was opened in the former territory of East Berlin in 1994 before Berlin became the capital of united Germany. The German establishment newly added a denim fabric course to its traditional classes for women's wear, men's wear, lingerie, and stage costumes. ESMOD BERLIN was the only school to offer this new course among the ESMOD establishments in Europe. The course is operated under a close agreement with Mustang Jeans, Europe's largest jeans wear brand.

ESMOD OSAKAwww.esmodjapon.co.jp

In 1994, 10 years after ESMOD TOKYO was opened, the second ESMOD establishment was built in downtown Osaka. The new school offers regular courses for women's wear and men's wear and special programs associated with the Kobe Costume Museum to over 240 students.

ESMOD BORDEAUXwww.esmod.com

Established in 1991, ESMOD BORDEAUX is located in fashionable Bordeaux, in South-east France, where numerous upscale fashion shops are clustered together. Having a long history of brisk trade with England, the area has been the birthplace of such world-class brands as Oxbow and Quick-silver. It is also close to LECTRA, the state-of-the-art CAD equipment providers, and offers the ideal environment in which to learn fashion. The school offers 2-year programs.

ESMOD OSLOwww.esmod.no

Celebrating the 17th anniversary of its foundation, ESMOD OSLO specializes in the types fur products that are commonplace on the Scandinavian Peninsular. The school building commands the finest view of some breathtakingly scenic beauty as it stands in front of Oslo Harbor. The shops selling fur products on a nearby street provides an invigorating climate for the students. Most of the students at ESMOD OSLO major in marketing as the Norwegian people value practicality highly. Most of the educational programs are co-run by the Norwegian fashion companies.

ESMOD DAMASCUS

www.esmod-syrie.com

Leveraging its geographical edges as gateways to both the East and the West, and respecting the mixture and harmony of the many cultures, ESMOD DAMASCUS has built up a reputation as Syria's first fashion school. Only a women's wear class is currently open to 3rd year students.

ESMOD PARISwww.esmod.com

Every year, ESMOD PARIS is swarmed with thousands of aspiring designers from more than 60 countries. Stylism and Modelism courses are offered on a 3-year basis, and each course is divided into seven majors – women's wear, new couture women's wear, men's wear, kids' wear, lingerie and beachwear, costume creation, and accessories. True to its reputation, ESMOD PARIS exists in cooperation with the entire spectrum of fashion companies in the running of ISEM - its fashion business course ranging from production planning, marketing and fashion journals to promotion – in addition to the basic clothes production and pattern drafting courses.

ESMOD DUBAIwww.esmod-dubai.com, admin-office@esmod-dubai.com

ESMOD DUBAI, which was opened in Oct. 2006, is officially registered as university. In addition to the 3-year regular course, a 2-year evening course, optional atelier course, and short-term 'SOS couture' course are also provided. All lessons are offered in English, and it accommodates only 50 elite students per year.

ESMOD ISTANBULwww.vakkoesmod.com, bilgi@vakkoesmod.com

ESMOD opens a new school in September 2010 in the historical heart of Istanbul city. Professors with extensive teaching and professional experience will be offering different program: 3 year degree in Fashion Design and Creation and Pattern Making.

ESMOD RENNESwww.esmod.com

ESMOD RENNES, founded in 1989, sits in the heart of the downtown Rennes, which is famous as the college polis in the northwestern region of France. Fronting the sea, the region has the tradition of producing sweaters or functional garments for the local seamen. Like those of ESMOD BORDEAUX, the students finishing the 2-year course are allowed to study one more year in ESMOD PARIS.

ESMOD JAKARTAwww.esmodjakarta.com

ESMOD JAKARTA was established in Sept. 1996 with the support of the Design Development Foundation of Indonesia. In order to train young talent and inject fresh blood into the Indonesian fashion industry, this ESMOD branch has been pushing a lot of industrial cooperative educational programs. About 120 students, including the foreign students attending ESMOD JAKARTA, have had great success in a series of international fashion contests.

ESMOD ROUBAIXwww.esmod.com

ESMOD ROUBAIX, located in the northwestern region of France, was opened in 1994 by the leading figures of the Roubaix textile industry. The industry has maintained a close relationship with the other neighboring schools that teach management, architecture, and graphics, as well as the companies in other industries. ESMOD ROUBAIX provides women's wear, men's wear, and kids' wear and opens its ISEM course in Sept. 2009, following in the footsteps of ESMOD PARIS.

ESMOD KUALA LUMPURwww.esmod.com.my

With more than 20 years of success in producing creative talents to meet the international creative and animation industry, The One Academy is all set to train the next generation of creative fashion designers by bringing Paris fashion design to Malaysia. The One Academy's ESMOD Kuala Lumpur has now opened its doors to young aspiring fashion designers. It is the only Paris fashion design school in Malaysia. ESMOD Kuala Lumpur has fully embraced the teaching ideas, content, methods and materials of ESMOD Paris. Offering Diploma in Fashion Design & Pattern-Making, ESMOD Kuala Lumpur has also brought in French lecturers and resources to compliment the teachings of ESMOD Paris.

ESMOD GUANGZHOUwww.esmodguangzhou.com

ESMOD GUANGZHOU, opened in September 2014, is located in the heart of Guangzhou in Guangdong Province. ESMOD Guangzhou is created in association with "Guangzhou University, College of Textile and Garment", at "TIT Creative Industry Zone".

ESMOD SOUSSEwww.esmod.com.tn, esmod@esmod.com.tn

Sousse, Tunisia's 3rd largest city, welcomed its very own ESMOD branch in 1997 following ESMOD TUNIS. ESMOD SOUSSE offers 3-year educational courses.

ESMOD LYONwww.esmod.com

Lyon is the Mecca of the fashion and textile industries with its silk production and printing tradition stretching back 450 years. Due to the close proximity of southern and northern Europe, many students from various European countries have attended the school since 1991 when the school was opened. The local textile and garment industries made it easier to run diverse industrial cooperative education programs.

ESMOD JAPONwww.esmodjapon.co.jp

ESMOD JAPON, opened in 1984, was the first overseas branch of ESMOD International. More than 430 students with various nationalities are enrolled at this school. There is a special course on offer for those students who aspire to study at ESMOD PARIS.

ESMOD MOSCOUwww.esmod.ru

ESMOD MOSCOU offers the fashion marketing and merchandising Master's degree program, within the Moscow Design and Technology University.

ESMOD TUNISwww.esmod.com.tn, esmod@esmod.com.tn

ESMOD TOKYO, opened in 1984, was the first overseas branch of ESMOD International. More than 430 students with various nationalities are enrolled at this school. There is a special course on offer for those students who aspire to study at ESMOD PARIS